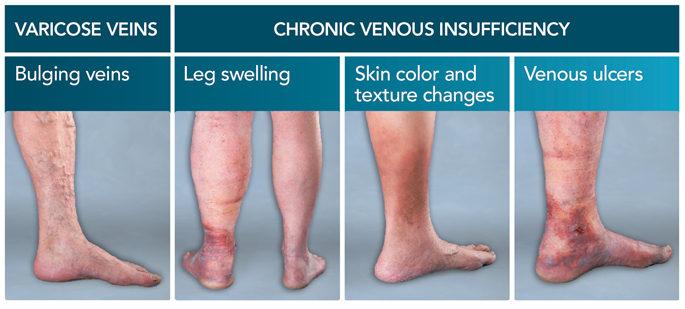 Today, the two main complaints associated with leg vein problems are Varicose Veins and Spider Veins (Telangiectasia). These two conditions are the visible surface indicators of an underlying issue with reverse venous flow or venous insufficiency syndrome.
Generally, mild forms of venous insufficiency are irritating, uncomfortable or cosmetically damaging. However, severe cases can produce serious consequences. In fact, there are some reports of loss of life or limb.
View before and after treatment photographs.
Spider Veins
According to the Mayo Clinic, Spider Veins are somewhat like Varicose Veins, only smaller. They are generally found closer to the skins surface and are blue, purple or red in color. The veins are commonly twisted and turning.
For the most part, Spider Veins occur on the legs. But they can also be found on the chest and face. Size can also vary and will often resemble a spider's web thus the name "Spider Veins". Learn more+
Varicose Veins
On first onset, Varicose Veins are not typically painful. But it is important to look for signs of early stages to prevent severe conditions. You may have Varicose Veins if you have the following signs:
Veins that are blue or dark purple in color
Veins that are bulging and appear twisted; a lot like having cords on your legs
Sometimes Varicose Veins can be painful in the early signs of development. And as the condition progresses, painful issues are more likely to occur. Some of the painful symptoms include:
Bleeding from the varicose veins
Achy or heavy feeling in the legs
Itching around one or more of the veins
Hardening of the vein and color changes
Pain is worse after standing or sitting for a long time
Red discoloration of the skin with a painful cord in the vein
Lower legs have muscle cramping, throbbing, swelling and burning
Skin ulcers or inflammation of the skin near the ankle (meaning you have chronic vascular disease that needs medical attention)
Learn more about Varicose Veins
High Blood Pressure
Oftentimes, people with high blood pressure will have problems with their legs. In fact, studies show that if you have high blood pressure it will generally affect the legs. Some of the symptoms include:
Itching
Varicose Veins
Cramping in legs
Skin color changes
Skin sores (ulcers)
Swelling, commonly in the ankles
A feeling of heaviness or achiness
The Vein Center at Johns Creek
At the Vein Center at Johns Creek, Dr. William H. Johnson, MD and his staff are devoted to offering the best quality vein treatment in a tranquil, relaxed, comfortable and professional setting. As well, the Vein Center at Johns Creek provides various options to fit your needs such as sclerotherapy and ambulatory phlebectomy.
If you have any questions or concerns about leg vein problems like Varicose Veins or Spider Veins, feel free to make an appointment or contact the staff. For easy availability, Dr. William H. Johnson is located in Suwanee, GA. He also serves the surrounding areas like Duluth, Lilburn, Alpharetta, Dunwoody, Chamblee, Doraville, Roswell, Sugar Hill, Buford, and Duluth.
Disclaimer
All information within this web page is not meant to take the place of professional medical advice. Be sure to make an appointment with Dr. Johnson or a specialist if you have any concerns.