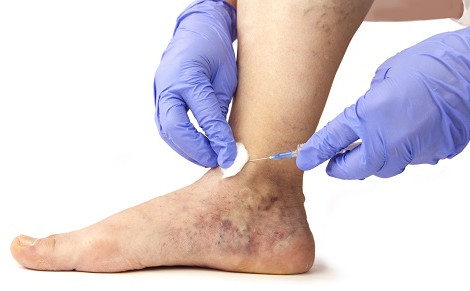 Spider Veins are smaller than Varicose Veins, although the conditions are similar. Spider Veins appear blue or red and are usually located close to the surface of the skin. They vary in size, and often have the appearance of a tree branch. Spider Veins can be caused by Venous Insufficiency, a condition where vein valves acting as one way flaps prevent blood flow backwards while moving up the legs.
Tiny veins can enlarge and become dilated over time, or your body can grow new veins near the skin. Pregnancy, estrogen-containing medications, and hormonal fluctuations may stimulate their appearance, thus, Spider Veins are more common in women. Additional causes of Spider Veins include sun exposure, and genetics (blame your parents.)
Spider Vein Treatment
Spider Veins of the legs are usually treated with Sclerotherapy. In some cases, the appearance of Spider Veins may be an indication that there are larger diseased veins underneath the skin. Ultrasound may be used to search for underlying diseased veins. If larger diseased veins are found, they need to be treated first and eliminated or else the Spider Veins likely will recur.
View before and after pictures.
The Vein Center at Johns Creek
At the Vein Center at Johns Creek, Dr. William H. Johnson, MD and his staff are devoted to offering the best quality vein treatment in a tranquil, relaxed, comfortable and professional setting. As well, the Vein Center at Johns Creek provides various options to fit your needs such as Sclerotherapy, and Ambulatory Phlebectomy.
If you have any questions or concerns about leg vein problems like Varicose Veins or Spider Veins, feel free to make an appointment or contact the staff. For easy availability, Dr. William H. Johnson is located in Suwanee, GA. He also serves the surrounding areas like Duluth, Lilburn, Alpharetta, Dunwoody, Chamblee, Doraville, Roswell, Sugar Hill, Buford, and Duluth.
Disclaimer
All information within this web page is not meant to take the place of professional medical advice. Be sure to make an appointment with Dr. Johnson or a specialist if you have any concerns.